Foreword
Yes I know the title said 'Jakarta Aquarium' but I want to have a little foreword here as this is my first post after three years and whaddayaknow the last time I wrote something was also in June. So will this also be another last before a long hiatus? I don't know 😂 And well, I don't want to think that I owe anyone an explanation but let me just put it here for the record. For the past three years I guess you can say I lost my willingness to blog. I did some "offline" journaling, all very depressing, so it's better not to put them in a blog :p Why write again? The trigger was quite silly. There was this misunderstanding with a certain online store and I felt that the owner did not really paying attention to what I was saying so I just needed to out it somewhere (meaning: writing super long caption at Insta). And it actually felt good. FYI Instagram and Twitter are my only active social media rn with Facebook too crowded and Path too exclusive but not really? So I tried writing longer captions until yesterday, we went to a new aquarium in Jakarta and I thought I'm gonna do a bit of a review along with a slideshow of pics and videos in Instagram, and well.. let's just say I just found out that captions have word limits. So well, you know, with my motivation to write being renewed, I thought why not blog again. And here I am.
2nd foreword:
The following post was basically what I've posted on Instagram, and some more..
Last Tuesday me and Navis went to the newly established
Jakarta Aquarium
down in West Jakarta along with my
nephew and sister-in-law as well as Navis' school friend and his mom. I first heard about it from another friend and had a visit planned somewhere during the school holiday then I knew about their 20% off promo with CIMB Niaga bank card
when I decided to make the visit to happen soon.
At first there were already misinformation about ticket prices and promos, what time does a certain attraction start, regulations for the "controversial" pingoo restaurant. Then the mixed reviews, some say it's boring and overpriced, tho it's new and rarely crowded like Seaworld Ancol.
So 1st the ticket price, I was looking for a cheaper group/family package that their website said was available at 500k for 2 adults and 2 children, so that would be ideal. I would only need to get 2 regular ones (kids >2 yo pay standard admission 😔) which were priced at 175k each on weekdays.
The website listed a call center number that connects you to the Taman Safari national park which manages the Aquarium as well. An officer there told me that the
family ticket was only available till June 10. However the bank discount was still valid. Then I tried calling the aquarium directly. I found their number on their Instagram page, they said the family ticket was still available but it couldn't be combined with other promos. So I checked their website again where there's an option to buy online, bought the family and regular tix and BAM got my 20% discount 😂
HOWEVER, somehow
the barcode from my e-tickets would not scan so the staff had to go back and forth trying to figure out a way.
The first thing we encountered was the otter tank which was quite delightful. I don't think I've seen a live one before. The creature was eating and swimming actively. It's kinda sad that he's alone, I hope they would get him a friend soon. The next memorable spot was the dock overseeing their big tank where you can watch big groupers, stingrays and nurse sharks swimming beneath your feet. Could be a bit unnerving for young children and maybe adults too, seeing those big fishes swimming under you.
my nephew needed some time to adjust
I think the key to visiting these sorts of places with young children is to take your time. We made sure we spent a few moments in front of each tank, trying to spot the animals, reading a few facts from their interactive tablets. And also because I read reviews complaining that the place wasn't big enough 😅
The Aquarium also has touch pools (don't forget to wash your hands before and after), they would also bring out one of their snakes around 5.30 pm for visitors to pet.
Next up was the mermaid show. It keeps showing up in TripAdvisor reviews so I made sure to include them in our itinerary. The Taman Safari call center said that the show begins at 5pm and lasts about 20 minutes. I forgot if I ran it with the aquarium but according to the mermaids' Insta account
@jakartamermaid
(yes they have their own insta), Ramadhan show starts at 4. Of course I believed them more than some call center officer.
The show itself was over my expectation. The actresses, especially the one who played the evil queen, took their roles to heart. Their facial expressions were a bit
sinetron
but a good thing they didn't overplay it. And I guess with kids you do have to show big emotions so that they can understand what's going on. The show got smoke effects and dancing crabs too (men in costumes..) And the swimming mermaids were a delight to look at. I'm not a fan of mermaids but seeing them made me (slightly) want to be them. Or at least swim like them. My son likes the show because of the crabs because they reminded him of Tamatoa from Moana.
Image source: Moana Facebook page
vs
Photo cred: Trip Advisor user Liburing d
Visitors were encouraged to go straight to the Lower Ground at 3 pm, one hour before the show starts in order to get the best seat. Or more like benches. And there weren't many of them but when we were there it wasn't so crowded so we took our places 30 minutes before. Even so, 15 minutes later the staffs announced that kids are allowed to sit on the floor in front of the stage. So.. actually there was plenty of space to share with everyone. After the mermaid show, do linger around the big tank because feeding time is around the corner and it was truly a magnificent sight not to be missed. Most staffs were also willing to help and ready to explain any fish-related questions.
Another attraction of the Aquarium is the Pingoo restaurant where guests are offered to dine alongside a tank filled with penguins as well as an opportunity to feed them. This drew controversies a while back especially from animal welfare activists because they think it's a horrible way to make money.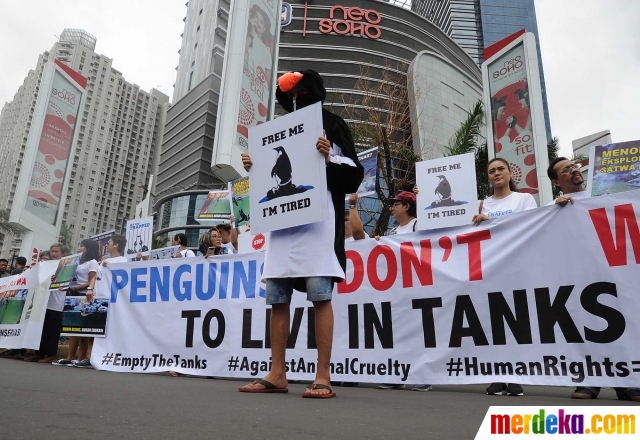 Photo source: Merdeka.com
I could totally understand their point of view and I'm sure Taman Safari is not 100% guilt-free. But I'm just going to give them the benefit of doubt, HOPING that the money they made from this are used for the welfare of their animals as well as their caretaker. From yesterday's visit I could see that none of the animals look distraught but of course I'm no animal behaviour expert. And the restaurant has a tricky T&R for penguin feedings as well as rules that they actively enforce such as: no knocking at glass tank, no picture taking with flash, no touching of the penguins once inside the tank, t
he staffs told my friend repeatedly to hold her son's and Navis' hands firmly once they were inside, etc.
Also, I did a couple of glances whenever we stroll past the restaurant and at times I could not see any penguins in the tank. So I assume they have a separate, private chamber for the birds where they can, you know.. be themselves.
The feeding slot for the penguins itself is limited between 5-6.30 pm on weekdays with only up to 10 tables, 2 people/table max. (or 2 kids 1 adult) are allowed to feed them. Guests also need to notify one of the staffs if they want to feed the penguin and they would let you fill in a "waiting list" for the feeding. The staffs themselves did not offer it to us. I guess some online reviewers lambasted the restaurant for failing to inform people about this penguin feeding T&R so many came to the place and was disappointed that they couldn't feed the penguin after paying quite an exorbitant price for their meal 😃 On normal days there was a minimum charge of up to 300k (not sure 😕). But during Ramadan they offered a 120k buffet per person, half price for kids under 12, and you can get an extra 10% discount using CIMB Niaga bank card. Is the food any good? It's okay. It's not horrible, but you're there for the experience anyway.
Another FYI, the Aquarium's entrance was located on LGM (Lower Ground Mezzanine) while the restaurant's was further down at LG.
So.. should you go or not? I'd say, if you're bored of Seaworld and think it's too crowded for you, then yes! The aquarium has an advantage of being new so everything inside was still shiny and bright..and working! However, older kids might find that it lacks oomph. I found the travelator tunnel at Seaworld and the quantity of their sea creatures still wins over Jakarta Aquarium. The Pingoo restaurant was optional. Go if you want the experience, but otherwise don't.
Distance-wise, Jakarta Aquarium is closer to home. One cannot travel that far to Ancol only to see the fishes. So one usually spends the whole day there. Yesterday we arrived at around 2 pm, got our tickets sorted, and had dinner around 5.30 at Pingoo, then finally got on our Ubers around 7.30.
Do I want to visit them again? Maybe next year? We'll see. To me, the point of taking my kids to places like these was not only for their experience but also so that they can appreciate nature and wildlife. Living in a city like Jakarta can make you feel so much removed from nature and you need small reminders like going to an aquarium or the zoo that there is more out there. Hopefully, teasing them (and myself) with a "glimpse" of nature could encourage us to preserve them AND save enough money to see these wildlife in their natural habitat.